Five Century House Tour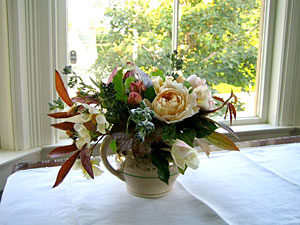 We are delighted to partner with the Annapolis Royal Historic Gardens to offer you a truly exclusive look into five centuries of Annapolis Royal's built heritage. Our Day Tours feature six houses, the Historic Gardens and the three museums of the Annapolis Heritage Society. Our Evening Tour features a musical trip down memory lane. Read on, or simply buy your ticket now!
By phone at:
Annapolis Heritage Society 902 532-7754
Historic Gardens 902 532-7018
Online at:
www.historicgardens.com
In person at:
The O'Dell House Museum, 136 St. George Street
The Historic Gardens, 441 St. George Street
OUR DAY TOURS – yes, we have two!
You will all explore the reproduction 17th century Acadian cottage; the delightful 18th century Bonnett house, never before open to the public; the 19th century Runciman House, sensitively refreshed since its sale by the Heritage Canada Foundation to private owners; the charming 20th century Arts and Crafts Pickels-How House and the sweetly simple 20th century Colonial Revival Foster-Nicholson House. In addition, we are thrilled to offer you a 21st century home to view — the Langstaff House, a vibrant reproduction in the 1880s Victorian Stick/Eastlake style.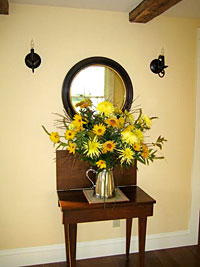 Five Century Day Tour: $25
Houses open from 10 am until 4 pm
Gardens open from 8 am until 5 pm
Museums open from 9 am until 5 pm
Light refreshments at Hillsdale House.
Five Century Day Tour plus the Mystery House! $35
Limited to 30 people
Your Mystery House ticket entitles you to visit all the houses and sites of the Five Century Day Tour, as noted above. In addition, you will participate in a Mystery House private tour at 1 pm, featuring a restoration lecture given by the home's owner, a heritage award winner. This Mystery House private lecture tour is complete with a door prize for one lucky ticket holder. Space constraints limit this tour to 30 people.
Because the Five Century House Tour features six houses, three museums and the Historic Gardens, we are mindful that there is a lot to see in one day! For that reason, all Day Tour and Mystery House Tour ticket holders have the right to enter the Historic Gardens and the three museums of the Annapolis Heritage Society on Sunday, August 29th, free of charge, upon presentation of their Saturday ticket.
Our Evening Tour $25
Our evening tour features a musical trip down memory lane. You'll experience the circa 1869 O'Dell House Museum for "Sea Shanties and Cider", the songs reflecting the enormous influence of shipbuilding and seafaring on the history of the town. You'll stop in along St. George Street at the circa 1821 St. Luke's Anglican Church (the Garrison Church) for a delightful recital featuring both ecclesiastical and secular music. You'll also visit the Gardens' Acadian Cottage, a reproduction of a 1671 Acadian dwelling, to hear lullabies and other simple songs. Light refreshments will be served during this tour.
Concert times to be confirmed.
Please note: If you would like to purchase both a Day and Evening Tour, we have special package prices:
Day and Evening Tour – $45
Day Tour, Mystery House and Evening Tour – $55