O'Dell House Museum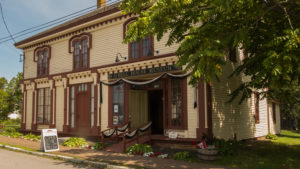 O'Dell House Museum at 136 St. George Street
Located on the Annapolis Royal waterfront in a circa 1869 stagecoach inn and tavern, the O'Dell House Museum is the former home of Nova Scotia Pony Express rider Corey O'Dell and family, and then of his son Griffin O'Dell and family, remaining in the O'Dell family until the 1950s.
The ground floor of this period Victorian structure allows you to step back in time and explore the inn's parlour, dining room, kitchen and small office. The second floor houses the Society's Genealogy Centre as well as constantly changing interpretive displays of items drawn from the Society's extensive collection of artifacts and archival materials, which document the history of the surrounding area.
The O'Dell House Museum also houses the Society's Archives and Collections Centre.
For more information on the O'Dell House Museum: