Fort Anne through the Centuries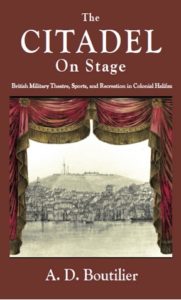 Join us for the opening of "Fort Anne through the Centuries" and celebrate Heritage Day with our guest lecturer A. D. Boutilier, who will present The Citadel on Stage.
The Citadel on Stage is a lively and entertaining social history. While it is a biography of the people of Halifax during the colonial era, it is also the story of the British army and Royal navy in a garrison town, and a study of the relationship of politics, religion, economics, and culture, as well as social activities in pre-Confederation Halifax.
In his own style, A. D. Boutilier paints a vivid picture of the comedy and farce inherent in upper class society and in the British institutions moored at Halifax until 1867.
Born in Sydney Mines, A. D. Boutilier is a graduate of Saint Mary's University, with a B.A. in English and Psychology, as well as an M.A. in Atlantic Canada Studies.
He has written several short stories and poems, a yet to be published social history of colonial Halifax, and a third book on post-colonial Halifax. He and his wife, Rosanne, reside in Fall River, Nova Scotia.
O'Dell House Museum
136 St. George Street
Annapolis Royal, Nova Scotia
The book is published by New World Publishing.